The 10 most powerful gangsters in history
Below is a list and brief biography of the ten most powerful and dangerous gangsters the world has ever known.
10. Frank Lucas AKA: "Superfly"
The heroin dealer and organized crime boss operated in Harlem during the late 1960s and early 1970s. Renowned for buying his supplies direct from sources in the Golden Triangle, Lucas stored the goods in coffins of dead American servicemen. His career was famously dramatized in the 2007 film, American Gangster. He was portrayed by Denzel Washington.
His house was raided in 1975 where more than half a million dollars-worth of cash was found at the scene. Lucas was arrested and later sentenced to 70 years in prison for over 100 drug-related convictions.
9. Jose Figueroa Agosto
Jose Figueroa Agosto was born June 28th, 1964 in San Juan, Puerto Rico. He is said to have risen in power within his crime family after he killed a driver that had stolen a shipment of cocaine. Even though he was caught and convicted for the murder he managed to escape, walking out of the prison with a fake release order and fleeing to the Dominican Republic.
He made his millions in drug trafficking at some point controlling over 90% of the drug traffic from the Dominican Republic to Puerto Rico. He successfully eluded the law by creating alternate identities and paying bribes to law enforcement personnel but his luck finally ran out. He was arrested in July of 2010 by DEA, FBI, U.S. Marshals, and the Puerto Rican Police. His fortune was estimated at approximately $100 million.
8. Joseph Kennedy
Born on September 6th, 1888, in Boston, Massachusetts, Joseph P. Kennedy made his first million by age 30. Already in the liquor business legally he had to take extreme measures when Prohibition started or lose his business, so he contacted mobsters in New York and Chicago and became a successful bootlegger. Even after liquor was made legal again, Kennedy maintained those questionable ties and it's said to have played a part in helping him control certain political elections.
According to Fortune Magazine in his prime, Kennedy had a net worth of more than $300 million. As father to a U.S. President, a District Attorney and a Senator, you might raise a brow seeing him on our list, but with his known associations with the likes of mobsters such as Frank Costello and Sam Giancana and allegations of influencing unions, fixing elections and his bootlegging stint, he seems right at home as number eight on the list. Joseph Kennedy died November 18th, 1969, outliving all of his sons except for Ted.
7. Meyer Lansky
Meyer Lansky, originally Maier Suchowljansky, was born July 4th, 1902. Lansky was one of the most well-known gangsters of his time. Born a Polish Jew in Russia, he immigrated to the U.S. with his parents in 1911, moving to New York's Lower East Side. Partnering with Bugsy Siegel he ran a floating crap game organizing a small gang and moving on to bigger and better things including auto theft, burglary, and liquor smuggling.
He worked under the protection of the Masseria crime family, even moving on to putting together a group of professional assassins. Supposedly it was Lansky who conspired with Lucky Luciano to eventually have Masseria killed in 1931. Lansky joined Luciano from 1932 to 1934 forming a national crime syndicate. Lansky became a major banker in the operation and used international accounts to launder money. His success continued as he moved to developing gambling operations in Cuba, Florida and eventually Las Vegas. It was Lansky that financed his old friend Siegel's casino in Las Vegas and it was also Lansky that ordered the hit on Siegel when he attempted to steal from the syndicate.
When Cuba became a problem after Fidel Castro rose in power, Lansky turned his attention to the Bahamas, continuing to expand his gambling empire across the ocean. You name it, Lansky was into it, including narcotics, prostitution, pornography, racketeering, extortion, money laundering, etc.
6. Al Capone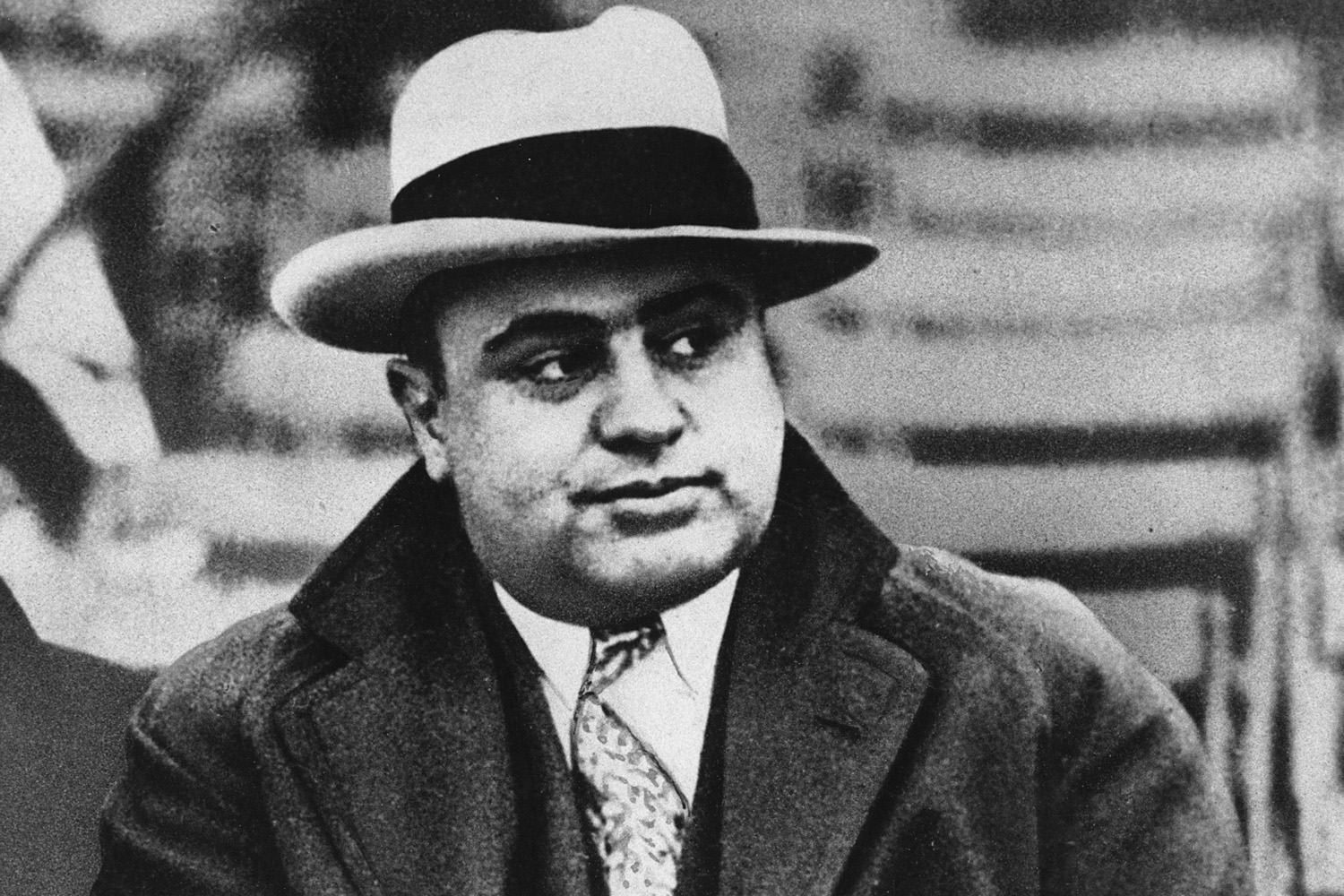 Alphonse Capone was born on January 17th, 1899, in Brooklyn, New York. He was born into a respectable family, his father was educated and making a living as a barber. Capone grew up living in a Brooklyn tenement near the Navy Yard. Although Capone was very bright he was expelled from Catholic school at age 14 for assaulting a teacher and he never returned. He met gangster Johnny Torrio and was seduced by Torrio's lifestyle. He joined Torrio's gang rising quickly and acquiring the scar in a knife fight that earned him the nickname "Scarface".
He moved to Chicago in 1909 at Torrio's request to help run operations there and by 1925 when Torrio retired, Capone became the boss of Chicago running the prostitution, gambling and bootlegging rackets there. He was ruthless, always attempting to take out other gangs and increase his territory. He ran the Chicago Mafia making most of his money during the prohibition period including over $60 million monthly from illegal alcohol alone. He was able to live the high life even refusing to carry a gun as a mark of his status, however he rarely traveled with less than two bodyguards and he almost always traveled under the cover of dark.
Capone was involved in probably one of the most infamous gang hits in history; the Saint Valentine's Day Massacre. Tired of dealing with his rival, Bugs Moran and his Northsiders gang, Capone ordered the hit for February 14th, 1929, staging it as a raid with the henchmen wearing stolen police uniforms. Unfortunately for Capone, Moran escaped but it was well-known who had attempted the hit. He had just about everyone on his payroll including government officials, judges, police officers and City Hall personnel.
His fortune would have been worth approximately $1.3 billion but unfortunately the law did catch up with Capone and he was arrested and prosecuted by the Internal Revenue Service for tax evasion. He spent 11 years in prison, serving time in Alcatraz until he became ill and was released early for good behavior. He died on January 25th, 1947 at age 48.
5. Griselda Blanco
Griselda Blanco , also known as the "The Godmother" and "The Black Widow", was born in Colombia on February 15th, 1943. She is suspected of having committed over 200 murders while transporting cocaine from Colombia to the U.S. She was raised by an abusive mother and drifted into prostitution at a young age. Working as a prostitute she became involved with the Medellin Cartel. Working for them, she helped smuggle Colombian cocaine throughout the U.S., even designing special undergarments that could be used to transport large amounts through U.S Customs.
Blanco arrived in New York in the mid 1970's, a successful drug smuggler running a huge narcotics operation but U.S. law enforcement was on her tail and after intercepting one of her shipments she and more than 30 of her partners were indicted. Afraid she would be captured, Blanco returned to Colombia, but eventually she came back to the U.S. and this time settled in Miami.
She continued working for the Medellin Cartel, acquiring her reputation for murder until she was eventually caught and jailed for drug conspiracy. Upon her release Blanco returned to Colombia where she was gunned down by two hit men on motorcycles at age 69. In her time she was making approximately $80 million a month and during her peak she was worth $2 billion.
4. Carlos Lehder
Born in Armenia, Colombia, on September 7th, 1949, Carlos Lehder became a founding member of the Medellin Cartel, eventually taking control of an island in the Bahamas and using it to transport cocaine between Colombia and the U.S. He used connections he had made in prison to help him import cocaine and distribute across the United States. A self-proclaimed Nazi, Lehder was eventually run off the island by Professor Richard Novak, a diving enthusiast, hell-bent on keeping his diving paradise pristine.
Once off the island, Lehder attempted to keep the law at bay with threats and payoffs, but eventually he was arrested, extradited to the U.S. and sentenced to 135 years in jail. After agreeing to testify against the Panamanian dictator, Manuel Noriega, Lehder was put into the witness protection program and virtually disappeared. Supposedly he was given a reduced sentence of 55 years and is serving time under another name. At the time of his arrest government officials seized Lehder's bank accounts and took ownership of his possessions bankrupting the gangster. During his prime through drug trafficking and racketeering, Lehder amassed a fortune of over $2.7 billion.
3. Joaquin Guzman Loera
It is believed Joaquin Guzman Loera was born on December 25th, 1954, in Mexico, although his exact date of birth is not known. He grew up the son of a cattle rancher, his family was very poor and he helped by selling fruit when possible to help earn a living. He also learned to grow his own poppies for opium and marijuana to increase the family's income. His nickname was earned by his short stance; Loera at full height was only 5 feet 6 inches tall earning him the moniker of "El Chapo", which means "Shorty".
After his father kicked him out of his family home, he went to live with his grandparents and he became associated with the Sinaloa Drug Cartel, overseeing drug trafficking between Mexico and the U.S. The drugs were obtained from Colombia and delivered into Mexico where Loera ran logistics, ensuring their delivery from there into the U.S. and Europe by way of plane, boat, truck, train, or helicopter. When the heads of the cartel were eventually arrested, Loera took control. He added the manufacturing of meth within Mexico as well.
According to Forbes, Loera's net worth is estimated to be approximately $5 billion. Although eventually a $5 million dollar reward was offered for his capture, Loera managed to evade the authorities and stay at the top of the FBI's most wanted list for more than 10 years. He was only recently captured and arrested on February 22nd, 2014 at a resort in Mazatlán, Mexico.
2. Amado Carrillo Fuentes
Amado Carrillo Fuentes was born December of 1956 in Navolato Sinaloa, Mexico. He was known as the "Lord of the Skies", earning his nickname utilizing private planes to carry cocaine around the world. He owned a fleet of 27 private jets, most were Boeing 727's. Flying into mostly municipal airports and airstrips around Mexico, he was able to successfully transport massive amounts of cocaine. Fuentes murdered his former boss, Rafael Aguilar Guajardo, leader of the Juarez Drug Cartel and took over operations.
Under his direction, the cartel flourished and Fuentes became one of the most powerful drug traffickers in the world, shipping tons of cocaine directly to Manhattan monthly. Married with a family, Fuentes resided in a middle-eastern style home that resembled a fortress called "The Palace of a Thousand and One Nights". It was finally ordered to be torn down in 2006 by Governor Eduardo Bours. Fuentes lived a far from peaceful existence spending the last ten years of his life mostly on the run from the law.
In 1997, as capture became imminent Fuentes decided to change his appearance and after admittance into a hospital in Mexico City, he died on July 3rd, 1997, while undergoing extensive plastic surgery. The operation lasted over nine hours and it's unclear as to whether Fuentes had a reaction to a medication or the respirator failed but he died on the table. Strangely enough, three months afterward, the two doctors who had performed the surgery were found dead, buried in concrete tombs. There was evidence torture had taken place. The funeral of Fuentes was considered to be one of the most expensive in all Mexico's history with thousands in attendance. This gangster, in his prime, was reported to have a net worth of over $25 billion, making him number two on our list.
1. Pablo Escobar
Number one on our list is the legendary Pablo Escobar, born December 1st, 1949 in Antioquia, Colombia. He was a founding member of the Medellin Cartel, one of the most powerful drug cartels in all of Colombian history. His ruthless ambition gained him control of over 80% of the cocaine that was smuggled into the U.S. Born into a poor family, Escobar started his criminal career early, stealing and selling tombstones. By the 1970's he began to be involved with cocaine. In partnership with five other illegal business owners he formed the Medellin Cartel, purchasing large amounts of coca paste from Bolivia and Peru and importing it to the U.S.
According to Fortune and Forbes magazines he came in as number seven on their list of the ten richest people on earth. He crafted his position and status carefully sponsoring charity projects and soccer clubs and investing in the right contacts and influential friends. Unfortunately, his ambition brought an early death to many that threatened to get in his way, including at least three Colombian presidential candidates, thousands of law enforcement personnel, attorney generals, judges and even journalists brave enough to report the truth. At one point it was said he offered to pay off Colombia's national debt estimated at $10 billion.
Pablo Escobar is one of the most famous modern criminals in history due to the popular representation of his life in the TV show Narcos. Escobar is reported to have been responsible for 80% of the cocaine smuggled into the US. at his prime.